News
DEMA 2010 Coverage - Day 3
Day 3 was basically video light day. It seems every company these days is making video lights, and I guess it makes sense given how accessible HD video is with small cheap videocameras and video on SLRs. Coverage from day 3 is below, and if you missed it, check out day 1 and day 2 coverage.


Ikelite

Jean Brigham showed us the new products from Ikelite. First up was their new video light, which is a 2500 lumen LED. It has a 100 degree coverage, multiple power settings, and runs on the same NiMh battery pack of existing video light. The price with the battery will be about $850 dollars.


Another product that Ikelite was showing was a fiber optic adapter for their DS series strobes. I had suspected Ikelite was in the process of creating an adapter given the rising popularity of fiber optic connectivity. It simply plugs into the bulkhead of the strobe and allows you to attach either SEA & SEA and Inon fiber optics. The adapter will cost around $100.



Ikelite, of course, was quick to get out a Nikon D7000 housing that will be released in a months time. It costs around $1500.


Ikelite also had a new JVC WP10 package. The housing and the waterproof video camera will go for $460.





Recsea (Seatool)

Recsea, perhaps better known in the U.S. as Seatool, had their own booth this year and featured an assortment of colored housings. Recsea put out a handful of aluminum alloy housings for popular compact cameras. They have one of the first P7000 housings and it's very compact, but still offers access to all controls. They also had a G12 housing that looked very similar. An interesting aspect of these housings is that they come with a port system depending on what you plan to shoot on the dive.


They had an impressively compact S95 housing that was like a smaller G12 housing, but it had a fixed port. Recsea has made both close-up and wide angle wet lenses to fit the s95 housing, however.


Recsea is jumping on the NEX-5 and made a housing for the camera that was small, and easy to open with a one latch system. There were a number of different ports including a dome port of the 16mm lens and flat port for 18-55mm. There was also word of a port for the upcoming 200mm Sony lens.



Fantasea

Fantasea's biggest product this year was their P7000 housing that utilizes a new look for Fantasea, sporting a black shell design. The housing is depth rated to 60m, offers access to all controls and is compatible with their line of Bigeye lenses.



Fantasea also had a new universal tray, the Blueray tray, that fits pretty much all types of housings and has a swivel bar stopper to prevent cameras being loose on the tray. The Blueray can fit two arms for dual strobe attachment.


Fantasea will also be dealing the Seatool housing for the Fuji 3D W3 camera that can shoot 3D video which can be viewed on its LCD screen without glasses.



Big Blue Dive Lights

Big Blue is a company that focuses on lights. It's new product is the VL 1300, a 1300 lumen video light with an 85 degree beam angle. It has three settings and has 2 filter options. It also comes standard with a hands free mount, or a ball adapter to attach to your housing. The price is set for $719.



Cathyx

Cathyx is another company specializing in lights and they were displaying their Euphos light line. They had a hardy looking Euphos Wide Beam on display that is a 4000 lumen fully integrated light. The other model of Euphos light they were showing is Euphos cable light that gives of 10,000 lumens of light. To give off such power, it needs to be connected to a 34 volt power supply.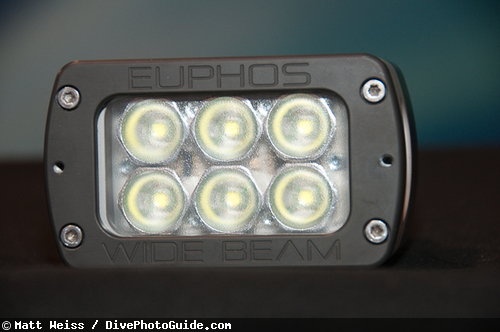 Intova

Intova is company that sells inexpensive housing and camera combinations. The latest is a IC12 that has 1010p HD video, full manual controls and a usb plug to connect the camera straight to the computer. It only costs $219 for both the camera and housing, making it one of the cheapest ways to get started underwater.



Bonica

Bonica had their usual colorful booth filled with their entry level products. The main new product Bonica had was their 500 lumen video light. The light takes 8 x AA batteries so you can easily and inexpensively replace them. It has 6-LED lights that can be dimmer for macro. At $399, it's the cheapest video we have seen so far.



They are also the distributors of Seashell housings, which fit 600 models when using the included adaptors and also are the distributors for Sony cameras and JVC video camera.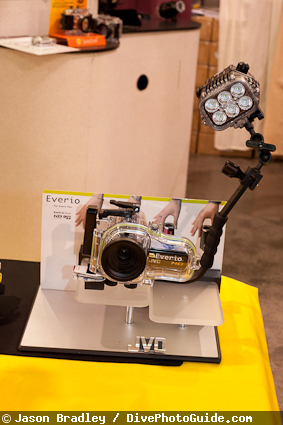 RELATED ARTICLES
LATEST EQUIPMENT
Be the first to add a comment to this article.
Newsletter
Travel with us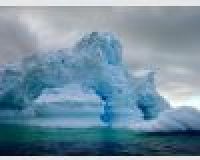 Antarctica
Plan Your Adventure >
Featured Photographer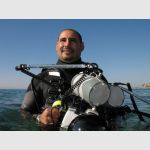 Noam Kortler
Expert Photographer
Noam Kortler is connected to the sea since he can remember him self. he was born on the coast of the Mediterranean sea of Israel and was diving and surfing when ever he could He moved to Eilat, the south popint of israel to...