News
Colony of 60 Million Icefish Nests Discovered Beneath Antarctic Ice
By Ian Bongso-Seldrup, January 13, 2022 @ 11:00 PM (EST)
Source:
Science News

A new study has described the biggest colony of fish nests ever seen, at a depth of around 1,600 feet and stretching across at least 90 square miles under an ice shelf in the Weddell Sea near Antarctica. That's an area almost the size of Orlando. The vast breeding ground was discovered by chance by Autun Purser from the Alfred Wegener Institute in Germany and his colleagues during a six-week expedition to the polar region in February 2021, but the work has just been published in the journal Current Biology.
The researchers were on board RV Polarstern analyzing the seafloor using the Ocean Floor Observation and Bathymetry System (OFOBS), a one-ton camera towed behind the ship. ("It's a normal Canon camera you can buy in any shop," Purser says. "It's just housed in a €3.5 million frame.") Lilian Böhringer, one of Purser's graduate students who was monitoring the camera feed, began noticing fish nests pockmarking the seafloor in all directions. "The camera was moving [across the seafloor] and it just didn't stop," says Böhringer. "They were everywhere."
The nests, modest bowls about 20 inches in diameter and six inches deep, were carved in the mud by Jonah's icefish (Neopagetopsis ionah), a type of small ray-finned fish native to the chilly Southern Ocean. Interestingly, these "white-blooded" fish are the only known vertebrates to completely lack hemoglobin in their blood. Each nest had one adult icefish and around 1,500 to 2,000 eggs, and the scientists estimated the colony contained at least 60 million nests—that's around 100 billion eggs in total. "It looked computer generated how structured these nests were," says Purser.
Small colonies of this icefish (nests numbering only in the dozens) have been observed before, but comparatively little is known about the species. The scientists believe the newly discovered colony is an important part of the local ecosystem, the adults sustaining Weddell seals and the juveniles feeding on microscopic zooplankton found inside an upwelling of slightly warmer water in the area.
Purser and his colleagues have plans to return to the Weddell Sea in April. Check out the researchers' video explaining the discovery here.

RELATED ARTICLES
LATEST EQUIPMENT
Be the first to add a comment to this article.
Newsletter
Travel with us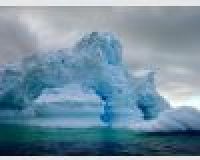 Antarctica
Plan Your Adventure >
Featured Photographer
Libor Spacek
Expert Photographer
I am a photographer and filmmaker, scuba instructor and yachtmaster coastal based in Czech Republic. Me and my partner Petra Dolezalova (photographer, publicist, diver) own a Dutch photography and film production Escape to...