News
The Coelacanth May Live for Almost a Century—Five Times Longer Than Previously Thought
By Ian Bongso-Seldrup, June 18, 2021 @ 08:00 AM (EST)
Source:
Science Daily

If you've been following our Photographer of the Week column lately—and why wouldn't you be?—you'll have marveled at the extraordinary images of French explorer and underwater photographer Laurent Ballesta. He is, of course, most well known for his pioneering Gombessa expeditions, which began with his groundbreaking descent into the abyss to photograph the rare and elusive coelacanth—a "living fossil" whose ancestors evolved some 420 million years ago and that provides a crucial link between fish and land animals.
Now French researchers studying marks on the scales of museum specimens say they have evidence of another fascinating aspect of these ancient fish: They may live as long as a century. Indeed, according to the scientists, coelacanths live life incredibly slowly, reproducing only in late middle age and gestating their offspring for as long as five years. The researchers examined 27 specimens from the French National Museum of Natural History—which has one of the world's largest collections of coelacanths.
"Our most important finding is that the coelacanth's age was underestimated by a factor of five," says Kélig Mahé, the first author of the research paper detailing the findings. "Our new age estimation allowed us to re-appraise the coelacanth's body growth, which happens to be one of the slowest among marine fish of similar size, as well as other life-history traits, showing that the coelacanth's life history is actually one of the slowest of all fish."
Much like tree rings tell the age of trees, previous studies estimated age by associating calcified structures on the scales, called macro-circuli, with annual growth marks. In the new study, the researchers used polarized light microscopy to discern much tinier and finer circuli denoting yearly growth, thereby increasing age estimates by around five times.
Two populations of coelacanths have been discovered: one critically endangered population of perhaps only a few hundred individuals living off the eastern coast of Africa, and another off the coast of Sulawesi, Indonesia. The new study offers valuable data for the conservation and management of this intriguing species.
Read more here.
RELATED ARTICLES
RELATED PRODUCTS
Be the first to add a comment to this article.
Newsletter
Travel with us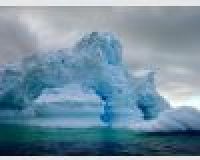 Antarctica
Plan Your Adventure >
Featured Photographer
Daren Beaumont
Photographer
My "underwater photographic style" took some time to develop. I wanted my images to be different to any other photographer. I spent a few years in developing an "artistic" style. Photographing contrasting...