News
Climate change and life in the Southern Ocean
A ten-week expedition to the Lazarev Sea and the eastern part of the Weddell Sea opens this year's Antarctic research season of the German research vessel Polarstern. On the evening of November 28, just some two hours after an official ceremony at the Berlin Museum of Natural History honouring Polarstern's 25th anniversary of service, the research vessel will begin its 24th scientific voyage to the Southern Ocean from Cape Town. The 53 scientists from eight nations aboard Polarstern will focus much of their work on climate-related research as part of the International Polar Year. In addition, Polarstern will also supply the German Neumayer Station during the first leg of the trip, and accompany the freighter 'Naja Arctica' which will deliver construction materials for the new research station Neumayer III to the Antarctic. On February 4, 2008, Polarstern is expected to return to Cape Town.
"Our research projects will improve the understanding of physical and biological processes associated with the Antarctic Circumpolar Current and the Weddell Gyre, both of which play a key role for the earth's climate", explains chief scientist Prof Dr Ulrich Bathmann of the Alfred Wegener Institute for Polar and Marine Research in the Helmholtz Association, referring to the central goal of the expedition. Plankton algae from these two marine currents south of the Atlantic Ocean are absorbing significant amounts of the climate gas carbon dioxide through their growth during the summer. By sinking to the Antarctic deep sea, these algae are subsequently transferring the carbon dioxide to the seafloor, where, in some cases below 4000 meter water depth, they provide food for bottom dwelling organisms. "The efficiency of this biological pump is controlled, for example, by nutrients, by physical dynamics in the ocean surface layer, and by the species of algae involved", says Bathmann. "We have to investigate these complex interactions further, in order to optimise scientific climate predictions."
RELATED ARTICLES
LATEST EQUIPMENT
Be the first to add a comment to this article.
Newsletter
Travel with us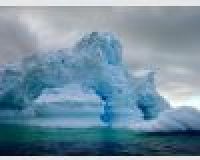 Antarctica
Plan Your Adventure >
Featured Photographer
Walt Stearns
Expert Photographer
Walt Stearns is one of the most prolific underwater and watersports photojournalists in the world. For more than 18 years, his images and writing have appeared in a broad range of well-known national and international...