News
Celebratory Event for World Oceans Day at United Nations Headquarters

Since its resolution in December 2008, every year the United Nations has celebrated World Oceans Day, along with individuals and organizations around the world, on June 8th. The concept of World Oceans Day was first proposed at the Earth Summit in Rio De Janeiro in 1993 by Judith Swan as a way to celebrate the shared ocean and our personal connection to it, and to raise awareness about the crucial role the ocean plays in all our lives and how we can protect it. Since this year June 8th was a Saturday, a celebratory day event at the United Nations Headquarters in New York City took place the day before.
The focus for World Oceans Day 2019 was "Gender and the Oceans," including ways to promote gender equality in ocean-related activities such as marine scientific research, labour at sea, fisheries, migration by sea, policy making and management of the oceans.
The strategic partner of the UN Division for Ocean Affairs and the Law of the Sea, Office of Legal Affairs, in organizing the event this year, was Oceanic Global. They did a brilliant job with a morning of storytelling and an afternoon of panel discussion. Ms. Lea d'Auriol and her team brought together women with a strong will to find their way in a field dominated by men in their respective countries.
Moana Aunofo Havea gave an empowering talk by telling how she started cleaning boats while raising a family and experiencing she had no decision-making power. This led her to cooking on charter boats, realizing she just wanted to be a captain, and she did it—because she wanted to be a leader but also wanted to listen to the people she would work with—which brought her to reading the skies, navigating the traditional vaka, and being a prime example of working towards creating your own opportunities.
Right before the break at noon, I was honored to present the winners of the Sixth Annual World Oceans Day Photo Competition, using my time to mention the importance of images to connect with the oceans as well as the importance of leading by example for all image-makers, storytellers and people that are privileged to be witnesses to life in our oceans.

Storytelling panel (L–R): Ms. Angelique Pouponneau, Kudzi Victorino Dykman, Aunofo Havea, Anne de Carbuccio, Patima Tungpuchayaku, and moderator Mariasole Bianco

The afternoon panel discussion was focused on solutions to gender issues (L–R): moderator Natasha Berg, Anamika Amani, Francesca Santoro, Lynn Zebeda, Kendall Barbery, Amanda Hastings, Gabriele Goettsche-Wanli, and Paige Alms

The opening remarks for the day included a call to action from UN Under-Secretary General for Legal Affairs Miguel Ferreira de Serpa Soares, UN Deputy Executive Director Asa Regnér, and World Oceans Day initiator Judith Swan.
The keynote closing speech by Dr. Sylvia Earle was a brutal wake-up call tinged with hope—if we change our ways now. She recognized the importance of gender differences and the values women around the world can add to solutions to restore balance in the oceans, from the food choices they make for their family to the way they consume and exchange convenience for conscience.
Dr. Earle also added that ocean conservation is rather a cultural issue and we have to make peace with the ocean, respect her as the womb of life—a beautiful metaphor from panelist Lynn Zebeda—and realize that today we have an unprecedented understanding of the challenges the oceans face. We are witnesses to our destruction of precious marine resources, our depletion of the ocean. If, with this knowledge, we cannot act, then we fail the future generations.

UN Under-Secretary General for Legal Affairs Miguel Ferreira de Serpa Soares

Judith Swan, the initiator of World Oceans Day

François Bailet, Senior Legal Officer, Office of Legal Affairs, UN Division of Ocean Affairs and the Law of the Sea, the driving force behind the UN World Oceans Day, thanking "Her Deepness" Dr. Sylvia Earle

Evening celebrations at the Peace Boat: Fabien Cousteau with Ellen Cuylaerts
RELATED ARTICLES
LATEST EQUIPMENT
Be the first to add a comment to this article.
Newsletter
Travel with us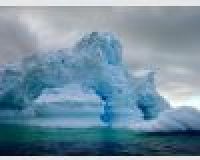 Antarctica
Plan Your Adventure >
Featured Photographer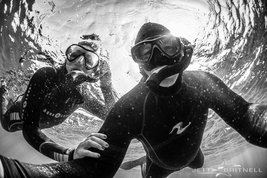 Jett Britnell
Expert Photographer
Jett Britnell, is a self-taught Canadian underwater photographer based in Vancouver, British Columbia. He became a certified scuba diver in 1980 and embraced underwater photography in 1983 where he learned how to adjust camera...