Ocean News
Political tensions have kept American scientists from Cuba's unspoiled reefs, but a new partnership for marine research is trying to change that.
continue
Norway increases its minke whale hunting quota to 1286 whales, up 45 percent from last year.
continue
A new voyage will try to measure the impact of bottom fishing in the Antarctic using underwater photography methods
continue
Former Chicago Bulls center Luc Longley wins auction for the right to name a new shrimp species.
continue
The big stories from day of COP15
continue
Underwater Photographers,videographers and ocean lovers should have their eyes peeled on the Copenhagen Conference on Climate Change for the next 10 days as the world's political leader's decide the fate our planet.
continue
A new study has found that blue whales are singing deeper songs, but scientists aren't sure why.
continue
A new study suggests that climate change may cause aggression in certain fish species.
continue
The very quiet Atlantic hurricane season ended this week
continue
A new groundbreaking study has traced scalloped hammerhead shark fins that were being sold in the markets of Hong Kong to their geographic origin.
continue
Newsletter
Travel with us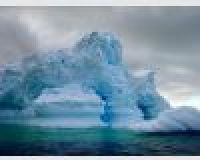 Antarctica
Plan Your Adventure >