Event Coverage News
It's always interesting to glean a perspective of divers from different regions of the world. After all, we collectively share the same passion for diving and the underwater realm. The Asian dive market is quite interesting, particularly because it exists in the heart of marine bio-diversity and abundance. Historically, The Asia Dive Expo (ADEX) is usually held in Singapore, a bustling market of divers with easy access to the amazing diving of Southeast Asia. We've been attending and presenting seminars at ADEX since 2001 and are completely enamored with diving in the region. So we trekked across the globe on a 17 hour flight from New York to Bangkok for the 2007 show.
continue
SHOW COVERAGE FROM PT EXHIBITION NETWORK DEEP Indonesia 2007, Indonesia's first international diving, adventure travel and water sports exhibition, organized by PT Exhibition Network Indonesia (X-Net), wound up on Sunday 1st April after a 4 day run with almost 7000 visitors attending the show, swarming the booths especially exhibitors selling diving equipment & accessories such as Oceanic, Scubapro, Aqualung, Suunto and Tigullio
continue
We continue our coverage of the 2007 Beneath the Sea show in New Jersey. This is the largest consumer dive show in the US and therefore, it draws a lot of industry folk.
continue
The 31st annual Beneath the Sea show kicked off this weekend to another bustling and energetic crowd. As always, DivePhotoGuide was there to cover the show from a photographers and videographers perspective. The DPG booth was the place to be for underwater imagery. One of the "cooler" elements of our booth was a converted old Nikonos V turned mystical fountain. Now that's art!
continue
The 37th annual Our World Underwater show took place in Chicago on Feb 9-11, 2007
continue
Newsletter
Travel with us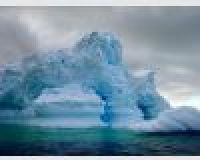 Antarctica
Plan Your Adventure >