All News
FiNS Magazine Associate Editors, DPG Contributors and marine life book authors Andrea and Antonella Ferrari (link http://www.reefwonders.net) have been lucky enough during a recent trip to Bali to encounter and photograph the elusive and yet undescribed Bali Wobbegong, a local and strictly localized subspecies of the Ornate Wobbegong Orectolobus ornatus, commonly found from Southern Japan to Australia...
continue
July 6th -15th 2007 Commonwealth of Dominica Dominica Watersports Association Dive Fest is an annual event, now in its 14th year, organized by the Dominica Watersports Association (DWA) to focus attention the sport of diving, to educate the public about scuba diving as a tourism product and possible career path, and to raise awareness about Dominica's stunning and unique marine environment...
continue
OceanNEnvironment Australia is pleased to announce in collaboration with the Department of Tourism (DOT) and the Philippines Commission on Sports Scuba Diving (PCSSD), to present the 6th 'Celebrate the Sea Marine Imagery Festival Philippines 2007'. Calling all Divers, Underwater image makers, friends of the sea and lovers of our natural world to join us at the 6th Celebrate the Sea, Philippines, from 21 to 23 September 2007...
continue
A Letter from Rob Stewart, Director of SHARKWATER Help us convince Canada, New Zealand and United States to save two species of sharks. The Convention on International Trade in Endangered Species (CITES) is considering including two shark species on their protected list. This weekend, 171 member counties will meet to consider new proposals for restricting trade in threatened species...
continue
With the spotlight finally shifting to environmental issues and global warming, America has finally woken up and realized what we are doing to the planet. Unfortunately, studies show that Americans are far less willing to make the drastic changes necessary to help the problem. It was only recently that the American consensus shifted to even acknowledge that humans have caused this possibly irreversible dilemma. Now we all have to do something about it. Scientists warn that we must reduce our carbon emissions by approximately 70% within the next 30 - 5o years to hopefully prevent Earth's long term inhabitability. There's an influx of green-oriented websites launching these days to help raise awareness of the problem and to brainstorm solutions. I recently discovered a couple of interesting sites that help calculate how much each of us is contributing to the global problem...
continue
Who will be the happy winner, who will be invited to SanDisk Red Sea 2007 competition? Tel Aviv, March 2007: SanDisk Red Sea 2007 competition will begin today, with an online monthly contest. Each month, an online photography contest will be held, and photographers from all over the world are welcome to submit a serious of 3 digital photos (scanned photos are accepted). On September a competition will be held among the 6 previous month's winners (March - August), and one of them will be chosen as the competition's winner...
continue
Established as the largest underwater photographic competition of its kind in Southern Africa, THE SODWANA SHOOTOUT will take place at Sodwana Bay from 8-12th May 2007. The competition is open to Video, Slide, Point & Shoot and SLR Digital Photographers. Whether you are an amateur or professional photographer, dedicated to macro slides; digital wide angle or a Video Creator- there are new updated rules and a competition category for everyone...
continue
The North Sulawesi Watersports Association (NSWA)has long been aware that the Sea Turtles, which are attracted to the long sandy beaches of Bunaken Marine Park on Indonesia's Siladen Island, are on the brink of extinction. With the advice and support of the WWF in Indonesia, the NSWA has established a turtle hatchery in Bunaken Marine Park on a section of beach where the turtles come ashore to lay their eggs...
continue
It's only been a few days and a lot has been said about Larry Smith. IIt's no great surprise to us, and definitely no great surprise to anyone who ever met him. This was a man who had a profound affect on the diving world. We all know he was the the world's best spotter, able to cruise around a reef and point out the most amazing of small critters to whoever was close by. It was always such a laugh to see that twinkle in Larry's eye as a diver's mask was raised to his, full to bursting with astounded eyes. He would just know that the diver was thinking, "how the hell did he see THAT!" And you could sit close by smirking, knowing you had been exactly the same the first time he took you on a dive. And what about those times when he used to gather the group onto a patch of barren seabed, get out that radio aerial and start tapping the ground. Did anyone ever know you could tame a mantis shrimp before you saw Larry getting them to do cartwheels! Of course, he was also the consummate professional, running resorts and boats like clockwork, managing crews and guests with a firm hand but a friendly one. Always ensuring that everything was just so. Taking time to reflect on the man though, we have started to see past these obvious moments, delightful memories though they are. What sits strongest for me was his amazing capacity to look at the people he came into contact with and turn that moment into something special. Larry had this singular capacity to instinctively know where the dive, the day, lay for them. For me, it was all about the reef. He recognized my drive to understand the sea even before I knew it myself. He was an amazing teacher, the person who handed me the understanding, and instilled my deep love, of what makes a reef work...
continue
"My exceptional encounter with Sailfish underwater was the most unexpected event in a 40-year wildlife photography career. It was an "awe-full" experience, exceeding my wildest expectations - the images speak for themselves. During three days I found myself more than once speechless and helpless. I ran out of film after the first 15 minutes during many of the encounters, leaving me with 30 minutes or more to enjoy the phenomenal encounter...
continue
Newsletter
Travel with us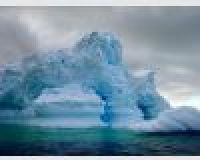 Antarctica
Plan Your Adventure >