All News
The new 21.1-megapixel, full-frame Canon EOS-1Ds Mark III Digital SLR* camera brings the power of Canon U.S.A., Inc.'s professional imaging excellence and innovation into sharper focus than ever before. While Canon's EOS-1D series has dominated the 35mm-based professional Digital SLR market for the past six years, the new EOS-1Ds Mark III Digital SLR takes Canon's pro-digital prowess into and the realm of high-fashion and commercial photo studios where bulkier, medium-format cameras previously reigned...
continue
On August 20 Canon announced the arrival of its next generation of advanced and pro-level DSLRs, the 10.1MP Canon EOS 40D ($1.299 body only street price) and the 21.1MP EOS 1Ds Mark III ($7,999 body only, street price). Both of these cameras should be a big hit for underwater photography enthusiasts and pros, especially those who already own Canon lenses and compatible flash systems. In addition to overall improvements in image quality (higher resolution, better noise reduction, and greater dynamic range) and autofocusing performance, both cameras now feature a large 3-inch LCD with a live preview mode that lets you see the image through the lens
continue
AQUATICA is proud to introduce its new housing for the Nikon D40x camera. This exciting product is part of a new line of AQUATICA underwater camera housings that are designed and built for newer, smaller and less expensive digital SLR cameras, making high quality underwater photography more affordable for the recreational diver. Made of anodized aluminum and machined to exacting specifications, the new D40X housing was crafted with the user in mind. It features all of the controls favored by professionals in a compact (H 6" x W 6.9" x D 5" or 154mm X 176mm X 127mm) and easy-to-use design...
continue
New Yorkers explore the depths of the sea in this stunning shuttle wrap execution. Photos: Chris Cassidy I was intrigued when I learned of the new campaign from Westin Hotels to wrap the inside of NYC subway cars with nature themes. It's part of their "This is How It Should Feel" campaign. Fortunately Westin has a website with pictures of the entire campaign, which I must say was brilliantly executed. The agency's involved were Deutsch and MediaVest...
continue
One of our concerned members, Edward Dorson, brought this issue to my attention this week, after he responded to an appeal recently made by underwater photographer Walt Stearns. Somehow the fisheries management groups in Florida have decided that the best way to learn more about the reproductive and other biological aspects of the Goliath Grouper is to enlist fishermen to take 800 of these beautiful creatures over the next 2 years for scientific research. Once popular residents on the reefs in southeast Florida, they virtually disappeared from fishing pressures. But in recent years the Goliath Grouper staged a comeback. As a diver, I take issue with pulling 800 of these magnificent creatures from the ocean. In an era where the large, easy targeted fish are disappearing before our eyes, I'd rather opt to understand less about them and allow them continue roaming the seas. However, the fisheries departments don't see it that way...
continue
FL-12 Underwater Housing for Nikon Coolpix L12 Digital Camera Fantasea Line announces the release of a new housing specifically designed for the Nikon Coolpix L12 digital camera. The FL-12 housing, depth rated to 60 meters/200 feet, is fully functional providing photographers with access to all camera functions. Fantasea's new housing design and improved construction makes this housing ideal for outdoor and underwater photographers' needs. The Fantasea FL-12 housing has a double O-ring seal on all controls, anti-glare hood over LCD screen, and built-in diffuser. The FL-12 also features a 46mm port ring thread for easy attachment of accessory lenses and filters...
continue
A Place Like No Other Raja Ampat is considered by many to have the greatest marine biodiversity of any place on the planet. Recent findings are mind blowing, with approximately 1,000 species of reef fish, 565 species of hard corals, and 700 species of mollusks. In addition, many large pelagics make their home in these waters. Huge schools of jack and tuna, pods of dolphins, turtles and other game fish abound. Mantas, mobulas and even the giant whale shark frequent these waters. With such a prolific marine environment, it is no surprise that Raja Ampat has been nominated to become a UNESCO World Heritage Site...
continue
Wiltshire-based underwater photographer Arthur Kingdon won the British Splash-In Championship, an underwater photography competition held in Plymouth waters on Saturday 7 July. Organised by the British Society of Underwater Photographers, this annual event has been running for over 30 years and is now organised in association with the National Marine Aquarium...
continue
Martha Tressler wins Wildlife Trusts seal of approval The search for a new 'face' to help promote The Wildlife Trusts' marine bill campaign is over after Martha Tressler's picture of a grey seal was selected by judges at the British Society of Underwater Photographers' annual prints competition which ran alongside the British Splash-in Championship. Photographers from around the world had been invited to send A4 prints to compete in 3 separate categories - British / Irish waters, overseas and advanced. The pictures were displayed in June and July at the National Marine Aquarium in Plymouth where the public was invited to vote for their favourites. Trevor Rees won both the British / Irish and the overseas categories while Peter Ladell took the advanced category. In addition, judges from The Wildlife Trusts chose four images representing British marine life among the display...
continue
Amphibico announced last week the release of the new Dive Buddy HD Elite. We had a chance to play with one of these (on land unfortunately) at the Scuba Show in Long Beach this past June...
continue
Newsletter
Travel with us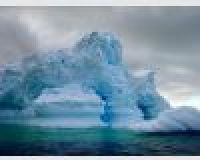 Antarctica
Plan Your Adventure >