All News
Researchers fresh from an eight-week scientific drilling expedition off the Pacific coast of Japan today reported their discovery of strong variation in the tectonic stresses in a region notorious for generating devastating earthquakes and tsunamis, the Nankai Trough. The scientists conducted their expedition aboard the new scientific drilling vessel Chikyu, drilling deep into the zone responsible for past and likely future tsunamis, and collecting physical measurements and images made using advanced borehole logging technology. Their achievement marks the launch phase of the Nankai Trough Seismogenic Zone Experiment (NanTroSEIZE), a major research initiative into the triggers and mechanisms of earthquakes and tsunamis supported by the Integrated Ocean Drilling Program (IODP). NanTroSEIZE is expected to continue until 2012, with the ultimate objectives of drilling across the plate boundary fault responsible for magnitude 8 earthquakes to sample the rocks and fluids in the fault, and to place instruments within it to monitor activity and conditions leading up to the next great earthquake
continue
A large amount of the greenhouse gas nitrous oxide is produced by bacteria in the oxygen poor parts of the ocean using nitrites according to Dr Mark Trimmer of Queen Mary, University of London. "A third of the 'denitrification' that happens in the world's oceans occurs in the Arabian Sea (an area equivalent to France and Germany combined)" said Dr Trimmer. "Oxygen levels decrease as you go deeper into the sea. At around 130 metres there is what we call an oxygen minimum zone where oxygen is low or non-existent. Bacteria that produce nitrous oxide do well at this depth"
continue
Ocean waves as tall as an eight-story building, once dismissed as maritime folklore, can be studied using waves of light, offering hope of predicting where these monsters may appear, U.S. researchers said on Wednesday. "These giant waves have been featured in many famous literary works from the Odyssey to Robinson Crusoe, but they were just thought to be the subject of myth for a long time," said Daniel Solli of the University of California, Los Angeles, whose study appears in the journal Nature. These rogue or freak waves can appear out of nowhere on an otherwise calm sea. Their extreme height -- reaching some 98 feet tall -- can batter a ship, smashing it to bits. "Even modern ships are not immune to damage from these things," Solli said in a telephone interview
continue
Carbon dioxide increasing in the atmosphere may affect the microbial life in the sea, which could have an impact on a major food source, warned Dr Ian Joint at a Science Media Centre press briefing December 10
continue
Scientists gathering evidence of ancient ice sheets uncovered a new mystery about what's happening on the Arctic sea floor today. Sonar images revealed that, in some places, ocean currents have driven the mud along the Arctic Ocean bottom into piles, with some "mud waves" nearly 100 feet across
continue
In coorporation with BuL Systeme GmbH, BS Kinetics GmbH has developed a new housing for 3D-shots.In the housing, two cameras with LANC-adapter can be pivotably attached
continue
Thousands of tonnes of oil have spilled into the North Sea during the loading of a tanker off Norway, the oil company StatoilHydro has said. The accident occurred at the Statfjord oilfield some 200km (125 miles) away from the west Norwegian city of Bergen
continue
The Hawksbill Sea Turtle, Antigua and Barbuda's national sea creature, has been identified by worldwide marine experts as an "indicator" species to show the effects of climate change. Given the history of killing turtles for food or fun on the island, the Environmental Awareness Group is asking the public to take note of the importance of the animal to the environment. The significance of preserving the Hawksbill turtle population is being highlighted this week during a World Wildlife Fund workshop in Miami held under the title, "Developing an Approach for Adaptation to Climate Change in the Insular Caribbean - the Hawksbill Turtle as an Indicator Species"
continue
The penguin population of Antarctica is under pressure from global warming, according to a WWF report. The report, Antarctic Penguins and Climate Change, shows that the four populations of penguins that breed on the Antarctic continent - Adelie, Emperor, Chinstrap and Gentoo - are under escalating pressure. For some, global warming is taking away precious ground on which penguins raise their young. For others, food has become increasingly scarce because of warming in conjunction with overfishing
continue
The animal rights group People for the Ethical Treatment of Animals (PETA) asked the Department of Tourism on Monday to reconsider its endorsement of the Manila Ocean Park. PETA maintained that marine parks present a distorted view of wildlife. It also urged the public to boycott the facility to show their objection to keeping sea animals in captivity. In a letter to Tourism Secretary Joseph Ace Durano, PETA-Asia Pacific campaigns manager Rochelle Regodon said the only thing marine parks taught people was that "it is acceptable to keep animals in captivity -- bored, restricted, lonely and far from their natural homes"
continue
Newsletter
Travel with us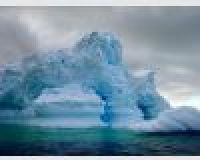 Antarctica
Plan Your Adventure >