All News
We continue our coverage of the 2007 Beneath the Sea show in New Jersey. This is the largest consumer dive show in the US and therefore, it draws a lot of industry folk.
continue
The 31st annual Beneath the Sea show kicked off this weekend to another bustling and energetic crowd. As always, DivePhotoGuide was there to cover the show from a photographers and videographers perspective. The DPG booth was the place to be for underwater imagery. One of the "cooler" elements of our booth was a converted old Nikonos V turned mystical fountain. Now that's art!
continue
As you may have heard, DEEP Indonesia was initially postponed due to the devastating flooding in Jakarta. Although the DEEP Indonesia Wetpixel & DivePhotoGuide International Photo Competition continued as planned, the exposition in Jarkarta was called off just weeks before the event. We are now happy to report that the organizers of the DEEP Indonesia Exposition have announced new dates for the rescheduled show. The winning images from the photo competition will be on exhibit throughout the show...
continue
The 37th annual Our World Underwater show took place in Chicago on Feb 9-11, 2007
continue
Most people who get into serious underwater photography start out buying a single lens reflex (SLR) from one of the major camera manufacturers. Typically, they then buy housings, ports, lights and other underwater accessories from a manufacture of underwater camera equipment. Many camera manufactures produce housing for their point-and-shoot Digi-cam cameras which are suitable for snorkeling or keeping sand out of your camera when shooting at the beach
continue
We all have had a scare or two while diving, but not many of us have had a dive like this. The following story was sent to us by a diver from the UK who wishes to remain anonymous. The following individuals' names have been changed to protect their identities. It was an overcast and dreary summer morning when Mike the dive master talked his Captain, Gary, into taking him on a solo dive to one of his favorite wrecks. The dive would remain etched in his memory forever
continue
A few weeks ago we ran an audience survey and we wish to thank all who participated! We had 3 signed copies of Mirko Zanni's new book to give away to 3 random survey respondents. We want to congratulate Jose Alejandro from Santo Domingo, Republica Dominicana, Amber from Aurora, Colorado and Kyle from Ontario, Canada
continue
Dive Into Adventure Bonaire Digital Photo Contest announces the Winners of the 2006 competition...
continue
Come see some of the winning images from the Dive Into Bonaire Digital Photo Contest...
continue
The 1st annual Wetpixel.com and Divephotoguide.com international underwater photo competition winners have been officially announced and posted online. The competition was fierce, and the images are outstanding...
continue
Newsletter
Travel with us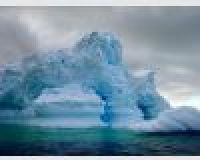 Antarctica
Plan Your Adventure >