All News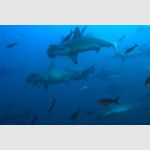 A possible predatory interaction between killer whales (Orcinus orca) and hammerhead sharks (Sphyrna sp.) was observed during April 1991 near Punta Cormorant, Galupagos Islands. Three killer whales were observed in close proximity to a freshly dead female hammerhead. One of the killer whales (approximately 6m in length) was observed motionless in a vertical position above the shark carcass and later was seen chasing an approximately 40cm hammerhead, supposedly a pup born prematurely from the dead shark. The sharks are thought to have been scalloped hammerheads...
continue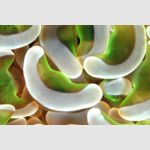 While humans can survive large temperature fluctuations, such species as corals are only comfortable within a 12-degree temperature range. And rising global temperatures appear to be threatening their survival, according to Drew Harvell, Cornell professor of ecology and evolutionary biology...
continue
Our good friend Annie Crawley, an underwater photographer and film maker from California, was featured on WGN News in Chicago last week. She was interviewed about her new book and DVD series and also sent a positive message about the health of our oceans and the need for education and conservation. Way to go Annie! You can watch the video of the TV coverage here. Save Our Seas Foundation has provided Annie with a grant to help create her series and the DVDs. Because of this relationship, all of Annie's products have a bilingual narration track. People can listen to it in either Spanish or English. Annie points out that SOS is really doing great things to help scientists, photographers and other projects get the word out about helping to Save Our Seas...
continue
During the final months of 2006, a number of leading diving related websites launched a collaborative diver survey, which included a chance to win an Indonesia live aboard trip with Archipelago Fleet...
continue
ScubaPortal.it, the most popular Italian Internet scuba diving portal, is updated daily with articles and pictures by famous journalists and scuba v.i.p's. and also by common people who want to share their personal experiences through words and images...
continue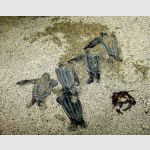 During the months of July and August, I and a select group of adventurers from Mexico, Australia, Germany, England, France, Spain, Singapore and the United States visited the nesting beaches of the Pacific Leatherback Sea Turtles (Dermochelys Coriacea), in very remote Papua Barat, Indonesia. My initial visits and exposure to these "Gentle Giants of the Pacific"A'A© was a year previously in a far different manner than these just concluded trips...
continue
The slaugther of Seaturtles in Bali The Island of Bali in Indonesia has been the hub of the sea turtle trade for two decades. The buyers of turtle meat, shells and eggs are mainly found in the Asian markets as well as in Indonesia itself. Turtle meat and eggs are not going to feed the poor, instead they are a privilege of affluent societies. Turtle shell is being used for jewellery and ornaments for tourists, all unnecessary objects, for which hundreds of thousands of turtles have to lose their lives...
continue
SCUBA Show celebrated its 20th year in 2007. The dive industry was greeted by thousands of California divers on June 2nd and 3rd at the Long Beach convention center, just steps from the Aquarium of the Pacific
continue
It's always interesting to glean a perspective of divers from different regions of the world. After all, we collectively share the same passion for diving and the underwater realm. The Asian dive market is quite interesting, particularly because it exists in the heart of marine bio-diversity and abundance. Historically, The Asia Dive Expo (ADEX) is usually held in Singapore, a bustling market of divers with easy access to the amazing diving of Southeast Asia. We've been attending and presenting seminars at ADEX since 2001 and are completely enamored with diving in the region. So we trekked across the globe on a 17 hour flight from New York to Bangkok for the 2007 show.
continue
SHOW COVERAGE FROM PT EXHIBITION NETWORK DEEP Indonesia 2007, Indonesia's first international diving, adventure travel and water sports exhibition, organized by PT Exhibition Network Indonesia (X-Net), wound up on Sunday 1st April after a 4 day run with almost 7000 visitors attending the show, swarming the booths especially exhibitors selling diving equipment & accessories such as Oceanic, Scubapro, Aqualung, Suunto and Tigullio
continue
Newsletter
Travel with us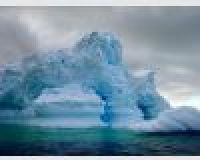 Antarctica
Plan Your Adventure >