All News
A team of field scientists from the Environment Agency-Abu Dhabi (EAD) discovered two dugongs trapped in an abandoned drift Gillnet, close to Abu Al Abyad Island
continue
The underwater housing, the DMW-MCTZ3 has been made of polycarbonate and is waterproof until a depth of 40 meters. Nearly all the functions can be operated underwater
continue
British Prime Minister Gordon Brown lashed the "unacceptably cruel" whaling industry Friday, hours after Japan said it was dropping plans to hunt humpback whales
continue
Officials say a lobster fisherman played a crucial role saving an entangled humpback whale off Grand Manan
continue
This year has been a major milestone for the St Eustatius Marine Park. It is ten years since the Marine Park first opened its office and started operations to install the first moorings for dive sites and yachts
continue
As the year comes to a close, we remind ourselves of what we truly resolve to do in 2008 - dive and shoot more!
continue
We've just come to the end of an intense two days at the Adisub convention in Milan, Italy, an event that excedeed our expectations
continue
Methane, a potent greenhouse gas, is emitted in great quantities as bubbles from seeps on the ocean floor near Santa Barbara. About half of these bubbles dissolve into the ocean, but until now scientists have not known what happens to this dissolved gas
continue
We have a new state in this country! Welcome number 53. It's called "The State of Deep Coral Ecosystems of the United States"
continue
Greece should immediately set up marine reserves to replenish depleted fish stocks due to overfishing or face a collapse of the industry, Greenpeace said on Thursday
continue
Newsletter
Travel with us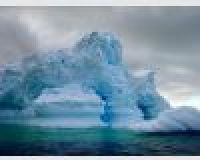 Antarctica
Plan Your Adventure >