All News
The California Coastal Commission approved a permit on Wednesday for Southern California Edison to build a 126.7-acre artificial reef from San Mateo Point to just north of the San Clemente Pier. The reef will stretch 2.5 miles in length approximately .6 miles offshore
continue
DivePhotoGuide released our popular news widget today as a Facebook Application
continue
Subal has introduced two new Nikon underwater housings: the ND3 for the D3 and the ND30 for the D300
continue
Obliteration of the world's great shark species may be upsetting the balance of entire ocean ecosystems
continue
Have Maluku Divers found a "new" frogfish? Have you seen this Frogfish before?
continue
Protest United Airlines new baggage policy before other airliens follow suit
continue
Coral reef scientist Dr. Andrew C. Baker has been awarded the prestigious 2008 Pew Fellowship in Marine Conservation to help protect reef corals from climate change.
continue
The Feb 15th deadline is fast approaching for the 2nd Annual DEEP Indonesia International Underwater Photography Competition
continue
The Friends, a non-profit group of residents primarily in the Calabash Boom area of St. John, have long opposed the scope of Reliance's proposed development, contending runoff from the project would harm important sea grass beds, endangered coral reefs and nationally protected sea turtles.
continue
Scientists at Scripps Institution of Oceanography at UC San Diego have now shed light on the puzzling mid-20th century crash of the sardine fishery off California by proposing a plausible mechanism behind the mystery: wind.
continue
Newsletter
Travel with us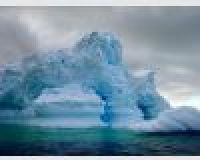 Antarctica
Plan Your Adventure >