News
ADEX Singapore 2023 Coverage: Part I

I recently had the pleasure of traveling to Singapore to attend the Asia Dive Expo—better known as ADEX. Living up to its reputation as Asia's biggest dive show, this year's edition packed in nearly 70 talks, six panel discussions, live judging of the Voice of the Ocean photo/video/art competition, and—I've been told—more than 22,000 visitors over three days.
I found every talk that I attended interesting, and I wish I could have enjoyed more of them, but as an underwater photographer, I wanted to spend most of my time on the imaging equipment exhibitors and checking out as many dive operators as possible. In this first part of my report, I'll concentrate on the booths that related to underwater photography, leaving the second part to focus on the talks I attended and the dive operators I visited, as well as looking at the winners of the Voice of the Ocean contest.

ADEX Organizer John Thet opens the show—"a celebration of women divers"
Nauticam
One of the most popular hangouts for underwater photographers, the Nauticam booth had the usual impressive display of the Hong Kong company's latest camera housings and wet optics. For full-frame cameras, there were housings for the Panasonic Lumix S5 II and S5 IIX (both of which are compatible with the NA-S5II housing), the Sony a7R V (NA-A7RV), the Canon EOS R5 (NA-R5), and the Nikon Z9 (NA-Z9).
For cropped-sensor cameras, there was a housing for the OM System OM-1 (NA-OM1), fitted with Nauticam's dedicated flat port for the new M.Zuiko 90mm f/3.5 Macro IS PRO lens. The port allows access to the lens' focus limit switch, and the optional knob that mounts on the port's barrel allows manual focusing via the lens' focus ring. It also comes with a 67mm thread for attaching wet lenses and even a focus light mount near the front of the port.

Nauticam NA-OM1 housing with the N85 Macro Port 120, optional focus knob, focus light mount, and wet macro lens attached

Nauticam also had on display their newly announced housing for the Canon EOS R50, a compact APS-C mirrorless camera. For this housing, Nauticam took a minimalistic approach and went for a fixed flat port. While the entry-level EOS R50 is an interchangeable-lens camera, Nauticam sees the inexpensive RF-S 18–45mm kit lens as the only logical choice for users. On its own, the lens is ideal for fish portraits, but pair it with Nauticam's wide-angle wet lenses WWL-1B or WWL-C and you can take on larger animals or underwater scenes. For macro, just attach the CMC-1 or CMC-2. Since all these attachments can be changed underwater, the NA-R50 setup is not only compact, but also extremely versatile.

The EOS R50 fits snugly in Nauticam's NA-R50 housing

Last but not least, Nauticam had their full range of innovative wet optics on display. It was interesting to see a side-by-side comparison of Nauticam's wide conversion lenses for full-frame cameras. While the hefty WACP-1 is designed to maximize image quality in the center and at the edges of the frame, the WACP-C doesn't offer quite the same optical performance but is considerably smaller and more travel-friendly.

From left to right and top to bottom: WWL-1B, MWL-1 with float collar, SMC-1, SMC-2, and CMC-2 mounted on a flip holder

Left: WACP-1 mounted on the Panasonic S5 II/S5 IIX housing. Right: WACP-C mounted on the housing for the Sony a7R V

The NA-A7R5 and WACP-C combo felt relatively compact and easy to hold single handed

Finally, I looked at a range of optics that was of particular interest to me as a close-focus wide-angle/wide-angle macro addict: the Extended Macro Wide Lens, or EMWL. Nauticam had on display the latest additions to this modular system. First, the 160-degree front optic is their widest objective lens to date: It focuses right on the lens while having a very small front lens diameter, which should allow you to fill the frame with a one-inch tall subject. (Keep an eye out for my forthcoming DPG review after I test my EMWL with this new objective lens.)

The 160-degree front optic mounted on the angled relay lens

Second, their angled relay lens is an optional replacement for the straight 150mm relay lens. This makes it easier to frame a subject against a water background while that subject is crawling on the bottom—exciting! Third, and lastly, Nauticam had a reverse 45-degree viewfinder on display. The idea here is to invert the image so that you can use the EMWL without a relay lens (which usually corrects the inverted image) and still work at a distance from the subject.

Nauticam had set up a toy nudibranch in a water bucket, and you could see the perspective produced by the lens via an Atomos Ninja V monitor mounted on the NA-R5 housing for the Canon EOS R5

Nauticam's reverse 45-degree viewfinder for use with the EMWL
Backscatter
My second stop was the Backscatter booth, helmed by owner Berkley White, Media Producer Robin Dodd, and Operations Manager Becca Boring. They were displaying the company's full range of underwater imaging products, which you could purchase during the show via their Singapore reseller DiveSea.

I was treated to a tour of Backscatter's product line by Media Producer Robin Dodd (left)

Getting lots of interest was the recently launched Mini Flash 2 (MF-2) compact strobe, with its aiming light showing exactly where the strobe beam will land when snooting with the matching Optical Snoot (OS-1). You could play with the round and oval masks, and see how the light falls around some plastic nudibranchs and frogfish.
The upgraded strobe can now be triggered remotely by another Mini Flash 2 by way of their small Light Pipe accessory. If you don't want the first strobe's light to be visible, you can attach Backscatter's infrared filter. The MF-2 is capable of high speed sync (HSS), allowing you to increase the shutter speed beyond the camera's maximum flash synchronization speed—with compatible housings/flash triggers. The strobe also supports TTL with Olympus/OM System cameras via the RC TTL protocol.

Two Backscatter Mini Flash 2 strobes with Optical Snoots (OS-1) mounted on Remote Lighting Muck Sticks

To make off-camera lighting easier when diving on sand, Backscatter came up with a simple but very useful product: the Remote Lighting Muck Stick, which has a standard 1-inch ball mount and a sand anchor to prevent the stick from falling over or rotating. It's an elegant solution for a problem facing those that love creative muck diving photography—and I immediately purchased one to try in Sydney's waters!
Next to check out was the Backscatter Macro Wide 4300, a video light boasting a 4,300-lumen 85-degree wide beam as well as a 1,400-lumen spot beam. The light is compatible with the same accessories as the Mini Flash, meaning you can mount the Optical Snoot, and use its round and oval masks, and Backscatter's Color Filter System.

Robin Dodd puts on a light show—courtesy of the Backscatter Macro Wide 4300 video light

Finally, we looked at the Backscatter accessories available for GoPros, including the FLIP filter system, wet lenses, and trays. On display was their FLIP10+ One Filter Kit, FLIP10+ Two Filter Kit, and FLIP10+ Pro Package, which are compatible with GoPro "waterproof cases" all the way from the HERO5 to the latest model, the HERO11, as well as Isotta's GoPro housing. These filters are designed to bring back warm colors when shooting at different depths.
Backscatter also showcased their Wide Double Handle Tray for GoPro with optional Arch Plate, which doubles as a carry handle and comes with extra mounting points for underwater lights. Usefully, this tray can work with compact or mirrorless cameras—all you need is a different tray mount.

Backscatter FLIP10+ filters mounted on housings by GoPro and Isotta (bottom-right corner)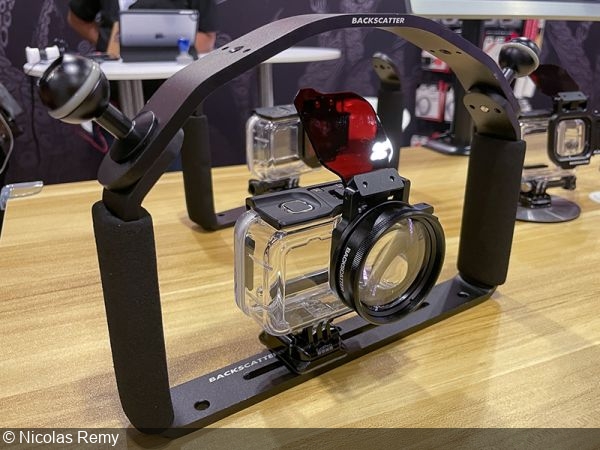 Backscatter's Wide Double Handle Tray with Arch Plate
AOI
Next to Backscatter was the AOI booth, which had on display a range of housings for Olympus/OM System cameras, but also wet optics, strobes, and lighting accessories, as well as a range of arms, clamps and other hardware to complement their housings.
They were showcasing housings for the following cameras: OM System OM-1, OM System OM-5/Olympus OM-D E-M5 III, Olympus OM-D E-M1 III, and Olympus PEN E-PL10/E-PL9. All of these housings have interchangeable ports (flat ports and dome ports are on offer), dual fiber-optic connectivity for strobes, and integrated vacuum check and leak detection systems. They all have a depth rating of 45 meters (~150 feet), except for the OM-5 III/E-M5 III housing, which is rated to 60 meters (~200 feet). The housings are compatible with the Olympus RC TTL protocol for strobe triggering—more on that below.
AOI had several of their wet lenses on display: three close-up lenses (+12.5, +18.5 and +23.5 diopters), and two wide-angle 0.45x conversion lenses (UWL-09 and UWL-09 PRO), which are designed to give a 28mm lens a 130-degree diagonal field of view.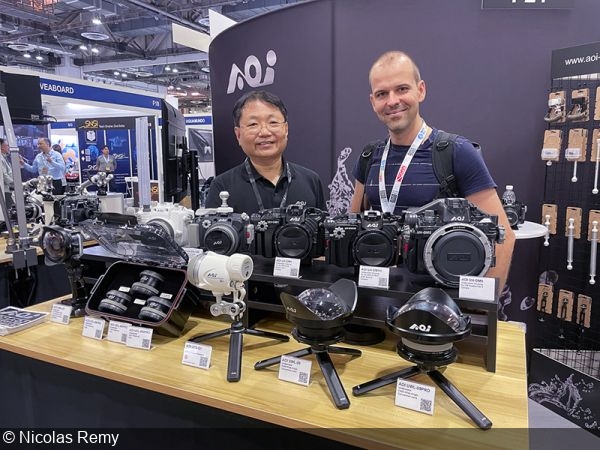 AOI Managing Director Victor Tsui (left) and myself, next to the company's various products

AOI had their UCS strobes on display. "UCS" stands for ultra compact strobe, and they certainly have a small form factor! I saw both the Q1, AOI's first strobe, which won a Red Dot Design Award in 2022, and the Q1RC, their newest strobe, which is progressively being rolled out worldwide.
Waterproof to 60 meters (~200 feet), the Q1RC strobe has a guide number of 22 and a color temperature of 5,600K, and features a 700-lumen light of the same color temperature with four power levels. It weighs only 550 grams (under 20oz) with batteries included. With diffusers, the color temperature reduces to 5,000K and the beam angle is 85 degrees (both vertical and horizontal). Impressively, at full power, the strobe can fire 1,500 times and recycles in only 0.85 seconds. AOI also sells a snoot compatible with the strobe.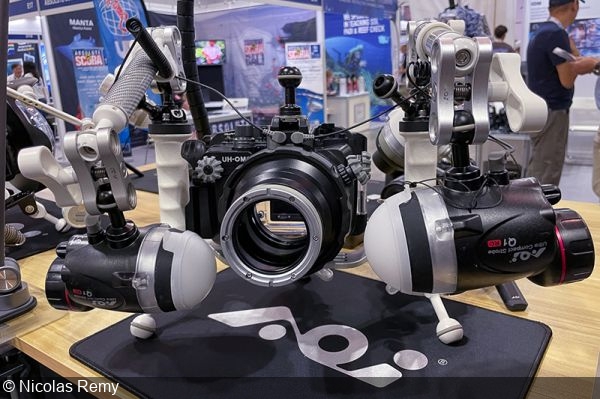 AOI's housing for the OM System OM-1 fitted with two AOI Q1RC strobes with diffusers

The main difference between the original Q1 strobe and the new Q1RC is the latter's support for the Olympus/OM System RC TTL mode. This TTL protocol is meant to be very accurate and works for both on-camera strobes and off-camera strobes triggered via the on-board flash. To demonstrate the technology, AOI had set up two cameras, connected via HDMI to a TV screen, where you could test the remote TTL strobe control and see the results straight away. This was fun and educational, and promises to make creative lighting easier for macro photographers.
AOI Director of Marketing Nick Khoo, a professional underwater photographer, gave me a demo of several lighting setups. Interestingly, the internal flash of the TG-6 could be used as a remote trigger for the Q1RC, while not being visible on the image. It turns out that a very faint strobe light suffices to trigger the remote strobe, which overpowers the camera flash, making it invisible, as desired. This seems like a very elegant, minimalistic setup, and I'd love to try it underwater someday.

The internal flash of an Olympus Tough TG-6 triggering a Q1RC strobe wirelessly

The AOI Q1RC strobe being used to create a backlighting effect on a plastic nudibranch
Seacam
At the Seacam booth, I met Seacam ambassador and reseller Imran Ahmad, who took me through the range of products on display. I had never picked up a Seacam housing before, and they were much lighter than I had expected. Imran explained that a complete Seacam rig—housing with external viewfinder, port, arms, clamps and strobes—is designed to be neutrally buoyant in the water. Additional floats are rarely needed. Another interesting feature of Seacam housings is the padded black fabric inside, which is able to absorb some water to limit any impact to the electronics and optics should a slow leak occur.

Imran shows me the Seacam housing for the Nikon D6

The padded fabric inside a Seacam housing

The Seaflash 160Digital, Seacam's flagship strobe, was proudly on display at the booth. Boasting a 130-degree beam with a warm color temperature of 4,500K, the strobe features a 250-lumen aiming light, supports high speed sync (HSS), and delivers 250 flashes at maximum power. It is depth-rated to 80 meters (~260 feet), but this can be increased to an impressive 200 meters (~650 feet). We also looked at Seacam's flash arm system, their novel approach to arms and clamps, where the ball mounts have no O-rings. According to Imran, these are not only lightweight but very durable, too.

The Seacam flash arm system

Seacam's flip adapter and new Achromat 4.0 close-up lens

The lightweight snoot for the Seaflash 160D strobe
Scubalamp (SUPE)
My next victims were Steven Lim and Raymond Bao, the team in charge of Scubalamp, who had strobes, video lights and lighting accessories on display. We focused on the D-Pro strobe and OSD snoot.
The D-Pro replaces the D-Max as the top Scubalamp strobe—while being smaller and lighter. The D-Pro strobe, which is depth-rated to 100 meters (~330 feet), offers a 150-degree beam, a color temperature of 4,800K, and 500 flashes at full power. The strobe has a 500-lumen aiming light, positioned at the center of the strobe beam. The strobe runs off three 18650 lithium batteries.

Raymond Bao, Steven Lim, and their flagship Scubalamp D-Pro strobe

Next, we looked at the Scubalamp Optical Shaping Device—or OSD. Needless to say, this snoot is compatible with the D-Pro and D-Max strobes, but using optional adapters, it can also be fitted to several Ikelite, Inon, Sea&Sea, and Seacam strobes. What stood out to me was the built-in aperture, which allows you to reduce the size of the snoot beam by turning the red dial.

Snoot like a D-Pro: The Scubalamp Optical Shaping Device (OSD) with its big red dial

Raymond Bao demonstrates the Scubalamp OSD's adjustable snoot aperture
Weefine
The final imaging equipment booth on my ADEX tour was PhotoProfessional.org, where I met with Pauline Wong, who was presenting a wide range of imaging products by Weefine.
First, we looked at the Weefine Smart Housing, which is designed to accommodate most iOS and Android smartphones. It is depth-rated to 80 meters (~260 feet) and has a built-in vacuum check to help ensure your beloved smartphone is protected. A major challenge of using a smartphone underwater stems from the touchscreen interface, but the Smart Housing overcomes this with a proprietary app (iOS or Android) that communicates with the housing via Bluetooth. As a result, the housing features physical buttons for the shutter release and other controls, and does not look so different from a typical point-and-shoot camera housing! Weefine offers two versions of the housing: one with a depth sensor (WFH05), allowing you to store depth and location data on the phone, and one without (WFH06).
Second, we checked out Weefine's aluminum housing for the popular Olympus Tough TG-6 compact camera. Like the Smart Housing, the WFH TG-6 is depth-rated to 80 meters (~260 feet) and comes with a built-in vacuum check system for extra peace of mind.

A range of Weefine housings, strobes, video lights, and lighting accessories

Pauline Wong holding the Weefine Smart Housing for smartphones

Weefine's housing for the Olympus TG-6, complete with WFA03 remote control (top left), which allows the user to control the power of two video lights

Weefine produces a wide range of video lights, many of which were on display. Most notable of these was the new WF075 Solar Flare 25000, which offers a 160-degree beam and a range-topping brightness of 25,000 lumens! Interestingly, Weefine offers a variety of video lights that also have a strobe capability. We looked at the WF079 Smart Focus 1200, a small (148mm/6in long) and lightweight (195g/6.9oz, including battery) light that I found surprisingly versatile. It has a 1,200-lumen 60-degree beam, which positions it as a focus light, but it can also act like a strobe—triggered via a fiber-optic cable—for macro photography applications. What's more, a tiny optional snoot allows the user to narrow down the light beam, while a multicolored filter accessory can be mounted in combination with the snoot to extend your creative possibilities even further.
Weefine's 1,800-lumen WF058 Ring Light 3000 was also on display. Designed to make subject illumination easier at very close working distances, the light offers white, red and blue modes. Similar to the Smart Focus 1200, the light has a fiber-optic port for flash triggering in strobe mode, giving you a 3,000-lumen pop of light.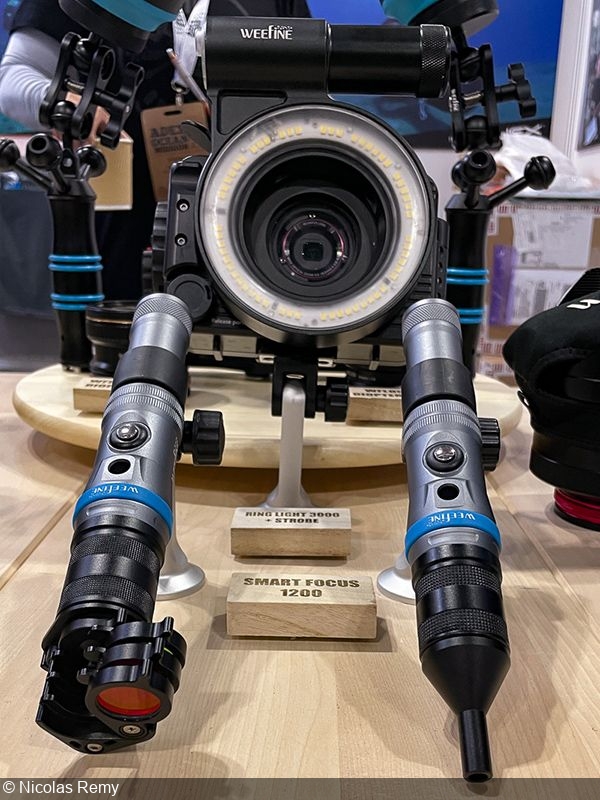 The Smart Focus 1200, mounted with the multicolored filter (left) and the snoot (right). In the background is the Ring Light 3000

Finally, there were two of Weefine's latest "regular" strobes on display: the WFS05, released in 2021, and the WFS07, unveiled just a few weeks before ADEX. The WFS07 strobe offers 60Ws of flash power and a 140-degree wide beam with a color temperature of 5,500K. Other claimed specifications include a full power recycle time of 0.9 seconds and more than 600 flashes at full power on a set of batteries. However, the most interesting feature of the WFS07 is its built-in 3,000-lumen video light, which has a color temperature of 5,000K and a color rendering index (CRI) of 90. Weefine says you'll get 50 minutes of burn time at full brightness between charges.
Part II of this report focuses on the talks I attended and the dive operators I visited, in addition to revealing the winners of the ADEX Voice of the Ocean competition.

---

When purchasing underwater photography equipment like the products mentioned in this article, please support DPG by supporting our retail partner—Backscatter.com.
RELATED ARTICLES
LATEST EQUIPMENT
Be the first to add a comment to this article.
Newsletter
Travel with us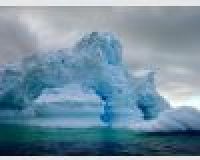 Antarctica
Plan Your Adventure >
Featured Photographer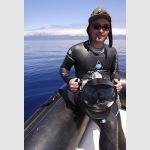 Jens Kuhfs
Expert Photographer
Born a Pisces, it should be no surprise that he has taken to the water. Jens Kuhfs has taken to the underwater. And he takes us with him when he captures his encounters in the blue depths of our planet with his camera, and...