December 2009 Photo Contest
Winning images for December's underwater photo contest have been selected.

The winner of the contest and a new Olympus Stylus Tough 8000 waterproof camera (value $350) is Jim Garland for his image of a P-47D Thunderbolt "Razorback" in Corsica.

Second place went to Tobias Friedrich, with another plane wreck. Dray H. Van beeck won third place with his beautiful ship wreck image.
You can see a complete announcement of the winners and winning images here.
Overview of the Olympus Tough 8000 (µ TOUGH 8000 in Europe):

The 12 megapixel Olympus Tough 8000 is the perfect camera to take on boat rides, snorkeling on the reefs, kayaking or white water rafting, or even on your next skiing trip. Since it is waterproof to 10 meters without an underwater casing, this is the

camera that you want to keep handy for the splashy panga trips and for convenient shooting on your topside excursions. It can be a second camera used to take topside pictures from the boat, or the perfect camera for the spur of the moment chance encounters with whales, dolphins or other unexpected treats that require a convenient and compact camera to jump in with. Additionally, you can add an underwater housing and strobes for a complete underwater compact system that works at all recreational diving depths.

WATERPROOF (33ft.)
A revolutionary system of waterproof seals and gaskets keeps water out so you can take pictures as deep as 33 feet underwater. An optional underwater housing is also available allowing you to scuba dive with the camera to 131 ft.

SHOCKPROOF (6.6ft.)
Life can be tough, this camera is tougher. Rugged metal body and revolutionary shock-absorbing construction are designed to withstand a 6.6-foot drop, bump or other mishap.

FREEZEPROOF (14°F/-10°C)
Boldly enter that winter wonderland without worrying about your camera. This camera is winterized to perform at below-freezing temperatures.

CRUSHPROOF (220lbf.)
With a rugged body and reinforced LCD, the STYLUS TOUGH-8000 withstands up to 220 pounds of pressure so your camera and images are protected.

DUAL IMAGE STABILIZATION
Forget about blurry shots with this 2-in-1 anti-blur solution. Sensor-Shift Image Stabilization compensates for camera shake to keep your shots steady while Digital Image Stabilization captures crisp, clear images in any situation.
PREVIOUS CONTESTS
Newsletter
Travel with us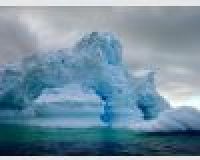 Antarctica
Plan Your Adventure >